Hi Nancy,

Monday morning, New Year's Eve coming up ...

Means ... Decision time!

"If it's meant to be, it's up to me!"

Not sure who wrote that, but my real estate broker said that daily, ad nausea!

A great reminder that success is not about hope ...

Or "trying" with some effort here and there ...

(Or a lot of effort, but not the most effective efforts AND/OR with the wrong timing!)

And success is about any outside influences ...

It is all about making a decision to commit to Extreme Ownership ...

Of our future results!

(Extreme Ownership is a Navy Seal term, by the way ... which is why they are laser focused on completing their missions no matter what!)

Doing better in the ring ...

Or feeling better physically and emotionally ...
Or preventing life stress from effecting our outcomes in the show ring ...

Is not about temporarily duck taping the symptons and problems ...

Nothing REALLY SHIFTS and transforms until we ...

Create a solid foundation of confidence, self-knowledge, and the tools to "fix" our self-sabotaging habits.

Nothing REALLY changes, with lasting results, until we DECIDE to CHOOSE a new identity that will take us on a new path ...

Where everything we think, believe, say to ourselves, react, sabotage ...

Changes!

Trying to fix the Old Rider that is not performing at the level of your dreams?

"We will always remain consistent with whom we believe we are." Tony Robbins

It is up to you to create your results ...

Or your failures.

Time to decide who you want to be.

(If not now, then when?)

Then commit to breaktrough coaching that will educate, empower, and hold you accountable to stepping up and ...

Winning!

Choose to jump over to the Equestrian Rockstar bridle path ...

And STAY there!

If you are ready to stop "trying" and to instead start PRODUCING RESULTS ...

Here is my link for setting up a consult to start my Total Results peak performance mental skills coaching program!

Schedule a consult for coaching

In case you missed my last newsletter, my book is available in paperback on Amazon!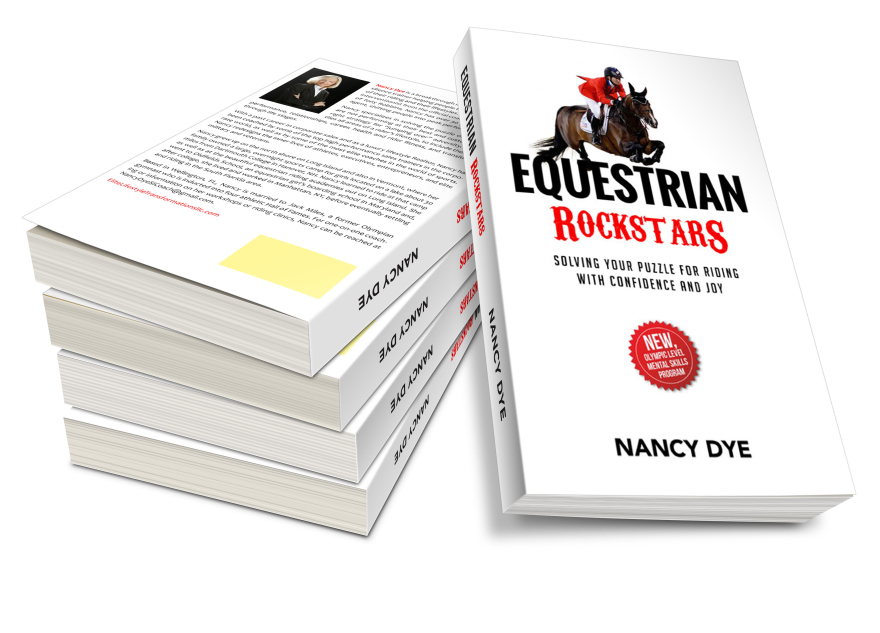 Commit to taking the steps to a Confidant, Joyful, and Successful New Year next year!

One stride at a time ...

Nancy Dye
Breakthrough Mental Skills Coach
Emotional Strength and Resiliency Trainer
Strategic Interventionist
1-561-866-0402