Inspirational Rider Updates;


My Equestrian Rockstars are coming in with great results so fast and furious, it's hard to keep up!

(In fact, I am sending this out now before I look at my social feed again!)


Let's feature some hunters today, but first, my jumper riders and trainers are still out there rocking it ... these are just some highlights ...

Trainer Nico Gamboa, the "Top Gun" of all my Equestrian Rockstars this year, had an unbelievable show at HITS Chicago.

He won a 1st and 5th for the $25,000 GP, and just won the $50,000 Grand Prix and also an 8th place. Prior to those two weeks, he placed 2nd and 4th in the GP and then another 2nd place and 6th during HITS Chicago. Nico is a trainer at Heineking Show Stables/October Hills Farm in Fort Worth, TX.

Trainer Christi Israel won her first Grand Prix piloting her first home bred horse from one of her several infamous GP horses, Cracky Z, at Fox Lea Farms in Venice, FL Christi is my book's (Equestrian Rockstars) cover rider model! (Note she had to go through about 5,000 photos of herself to pick one that best fit the specs I sent to everyone. And that was just from one photographer!)

Trainer Sarah Wayda, winning the 1:15 with a client's horse at the Princeton Showjumping, and she had top 3 placings with a 6 year old at Aiken Summer Classic and Princeton Showjumping while moving her own horse back up to GP levels after an injury.

Allison Johnson, who trains with Christain Heineking in TX, placed 6th in Adult Modifieds at HITS Chicago. She is now moving up to a new horse! Congrats!

Bailey Schram, who trains with Molly DeNapoli at Infinitty Farms in Ocala, won 1st and 2nd in Adult jumpers and then 3rd and 6th in the 2,000 NAL/WIHS Jumper Classics at Tryon International.

Some more hunter/jumpers ....

Bianca Salituri, who trains with Someday Stables, placed 9th in the International Derby at Princeton Showjumping!

Hannah Dolan, who trains with Frank Madden/Capital Hill, placed 3rd in USEF Talent Search, 3rd in Low Jr. Jumpers, and 10th in EQ Championships at GLEF!

For more results of my Equestrian Rockstar clients, follow my Nancy Dye FB and also my feed in IG; Nancydyemindset


Congrats on the recent wins by some hunter riders who are in, or recently graduated, from my Equestrian Rockstar peak performance mental skills program!


James Anderson of Bedford, NY.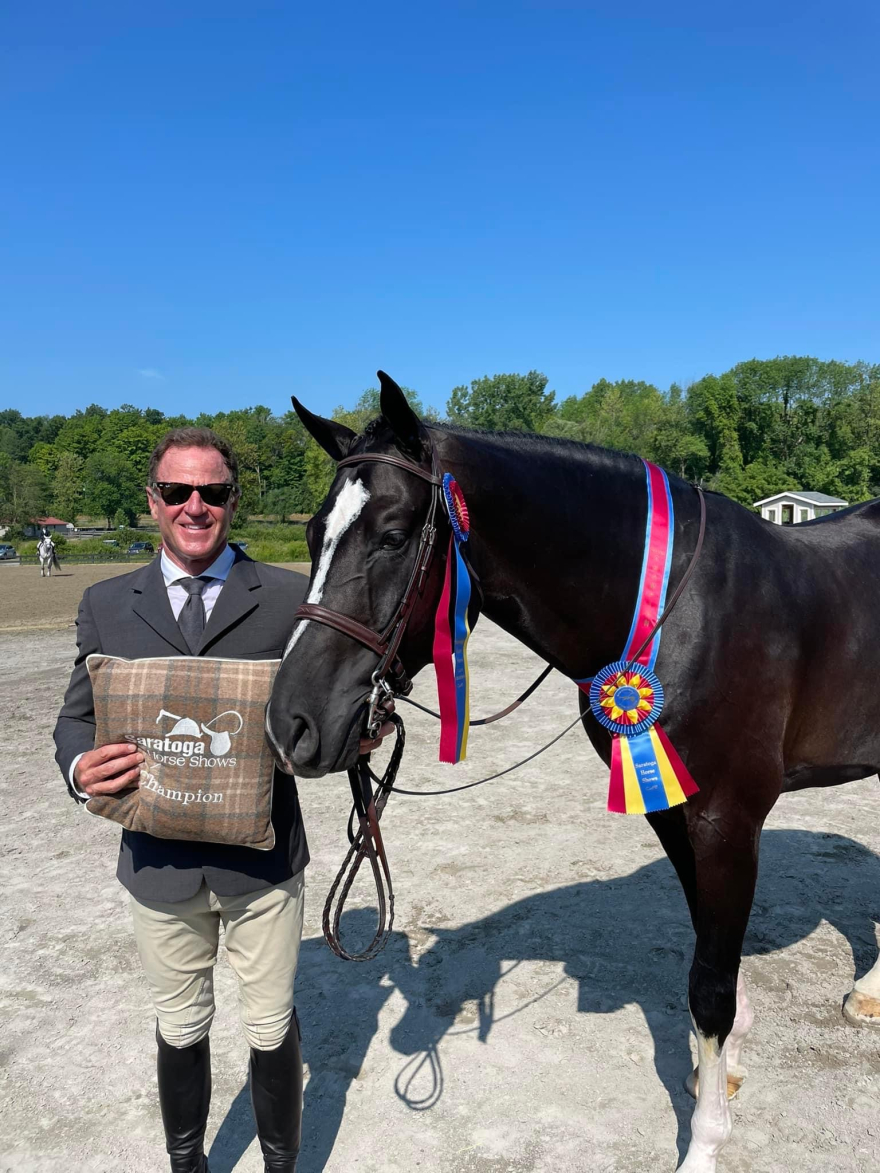 Champions! Equestrian Rockstar, James Anderson of Bedford, NY, and his beautiful horse, Soane, won the Older 3'3" A/O Hunter Champion after winning four classes at Saratoga and scoring their first 90 together.

This pair also won the overall 3'3" A/O Grand Champion of the award in addition to Soane winning Grand Hunter Champion of the show with Holly Orlando.

James and his horses train with Jenny Dunion and Holly Orlando at Evermore, Inc in North Salem, NY and Wellington, FL.


---


Mimi Moulton of Greenwich, Ct.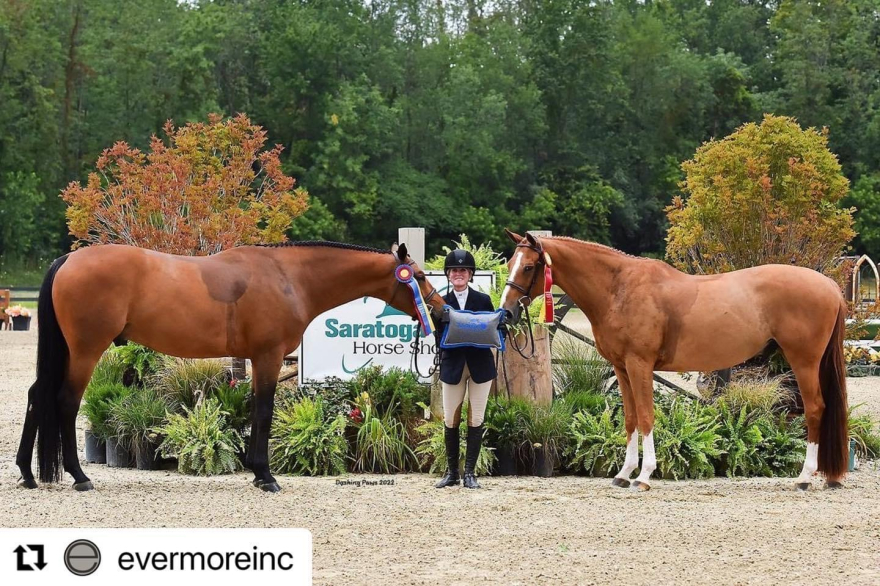 Mimi's first show (Saratoga) two weeks after she started coaching with me! It was Champion and Reserve week for Mimi taking home both Older Adult Hunter Division wins!

Mimi trains with Jenny Dunion and Holly Orlando at Evermore, Inc in North Salem, NY and Wellington, FL.

---

Natalie Coffin, age 15, trains with Bull Run Equestrian Center in Elburn, Illinois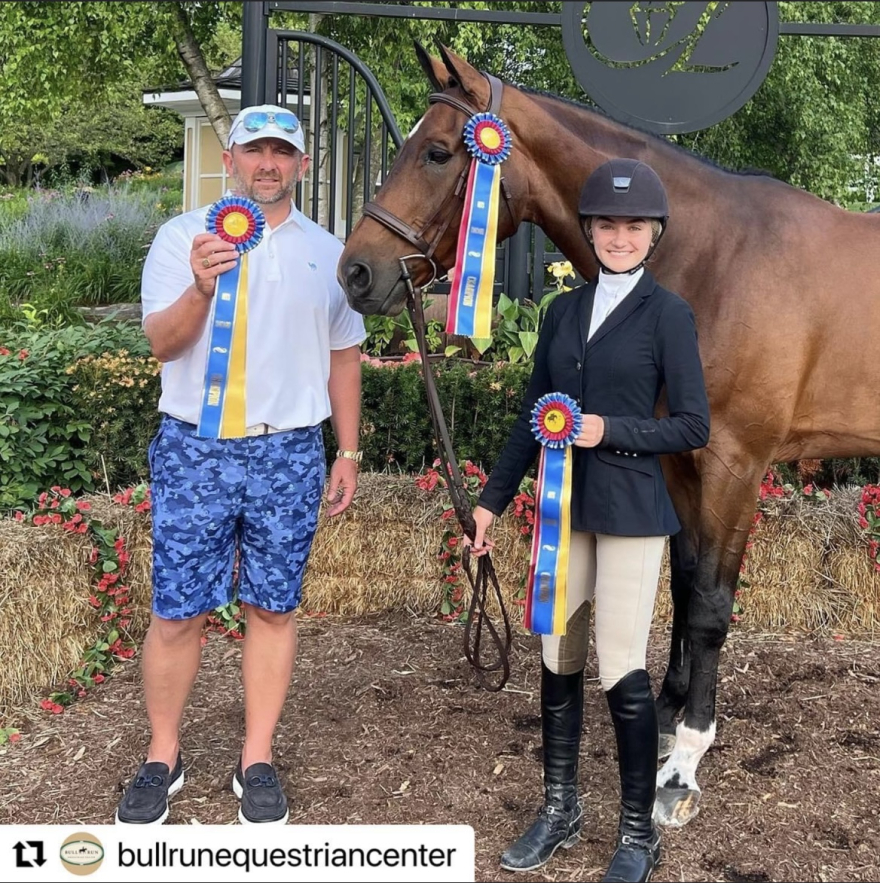 Photo With Father at Lamplight Equestrian Center: Natalie ending up winning both rounds in the Juniors to end up Champion. This new team also started the week out strong by receiving Champion in the Modified Jumiors.

Her Testimonial (which was half-way through my program and before the above results!)
On a scale of 1-10 (1 being "I can't believe I signed up for this coaching stuff" and 10 being "the most amazing thing I've ever experienced") please rate your coaching experience:
10!
What is your favorite part of the coaching process that you find to be the most helpful?
Learning the power poses and learning how to talk back to my Old Rider Idenity/Issues.
What challenges or goals do you feel are not being addressed at this time?
I can't think of anything.
What is not working well for you in the coaching experience?
Nothing
What are some of the tangible changes in your life/business as a result of coaching?
I think I have done a complete 180. I don't let anything take away my skills. I can come out of a not-so-great warmup (or have any adverity thrown at me), and still go out there and kill it!

And I've noticed and stopped the stories I've been telling myself for so long that have held me back or tripped me up.
Jill Coffin (Mother): "Thank you, NancyDyeMindset, for all you are doing to help my daughter to be the best that she can be! What a difference you have made!'

Dave Coffin (Father): "Thank you for all you're doing for her. It's helping like you can't even imagine! Like game changing! Thank you!"


---

Kate Egan, age 16, Trains with Emil Spadone at Redfield Farms in NJ.

(Shows her horse, Kashmir, as well as a variety of the hunter and jumper sale horses.)

Kate graduated from my peak performance mental skills bootcamp and placed in the top 1% of all my Equestrian Rockstars! (She too is featured on my website!)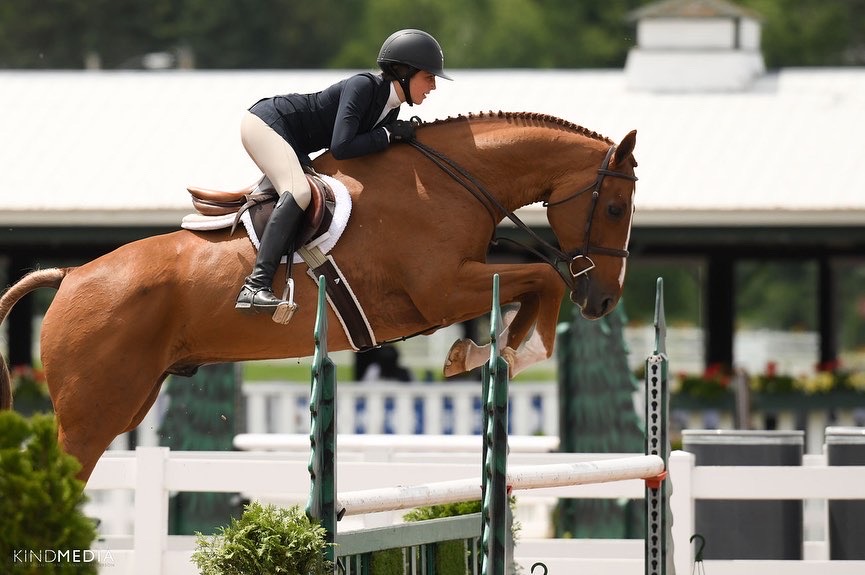 Photo of Kate and Kuba Libre. Photo Credit: Kind Media, LLC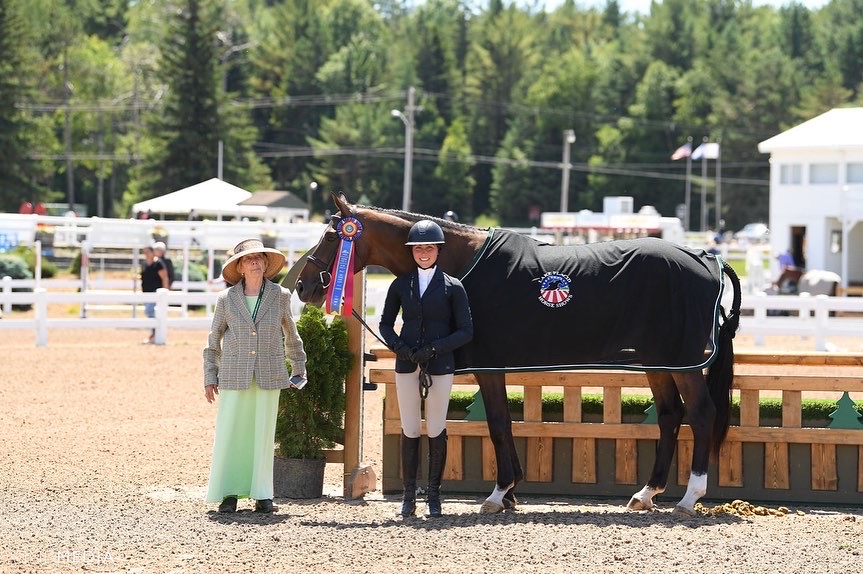 Photo of Kate and King's Landing. Photo Credit; Kind Media, LLc


Lake Placid Results:

Champion small 3'3" Juniors on Kings Landing

2nd in the Maclay on Kashmir

5th WIHS Hunter Phase with an 86.5 on Kashmire

83 & 84 in the Large 3'3" Juniors on Kuba Libre

Saugerties Results:

Texted question; "How did you do at Saugerties?"

"Clean sweep first day of junior hunters and 2nd and 3rd on the second horse the first day, and classic winner. Won the WIHS overall, score of 89 in hunter phase."

My answer to her text: "Excellent, I will put that in my newsletter, but I can't take ALL the credit!"

Her response: "You can take a large chunk of it!"


What do all these riders have in common? My one-on-one, peak performance mental skills coaching bootcamp.

They take extreme ownership for their results in riding and in life, and they work hard to apply the tools and techniques that they learned!


For more reviews;

The Results

If you are ready to raise your standards and rock it at the next level ...

If you want REAL and lasting results for yourself or the clients at your barn, schedule a consult to chat about my peak performance mental skills bootcamp!

If you are a trainer, you owe it to your clients (and the horses you are training) to be able to better understand what is holding them back and tripping them up from being the best that they can be!

http://go.elitelifestyletransformations.com/schedule-30-a1


Enjoy your well deserved day off everyone!


Nancy Dye
Breakthrough, Peak Performance Mental Skills Coach
Emotional Strength & Resiliency Trainer
Strategic Interventionist

561-866-0402