Testimonials
From Christi Israel, Grand Prix Rider & Owner of Byron Hill Farm, in Ocala, Fl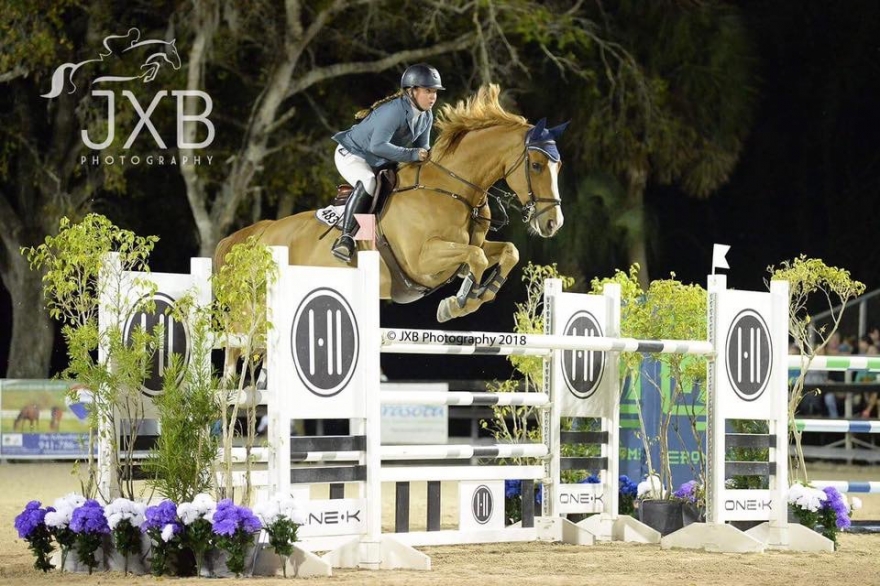 Click Here to Listen to My Coaching Notes With Christi.

"Nancy Dye is the BEST of the best! I reached out to Nancy shortly after my father passed away. He was my business partner and my strongest supporter, and that tragic event started affecting my riding.

After coaching with Nancy:

"I won the Grand Prix last night! It was so cool! It was a memorial event for my father (and business partner) who just passed away. I had 30+ people waiting for me at the in-gate all screaming when I walked out of the ring. My 'clear round machine' (horse) was amazing again tonight! I rode soooo amazing! So smooth and so confident! He was on cruise control! I was so focused, I couldn't even hear the crowds in the stands and the music last night when I was on course!"

End of season update:

"I use to worry about triple combinations, coming out of corners, and even blanking out after I made a few mistakes. And now I just won Reserve Champion Grand Prix for the circuit! Thank you, Nancy Dye!"

---


From Debbie Bass, Director USHJA, Adult Hunter Rider. Trains with New Hope Farm in Columbus, Ohio: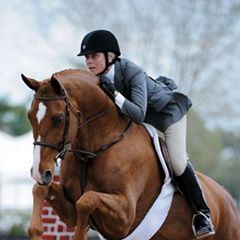 Her letter to me the following WEF season:

"Nancy,
"I just arrived in Wellington yesterday, and I am gearing up for my 26th WEF! Thanks to your coaching over the last year, I am comfortably prepared to take on my new goals for this season.

"I am a substantially more confident and effective rider than I was last year at this time. This is due in large part due to the work I did with you. In many respects, I am a more confident person too. Your coaching system has fostered an enhanced fundamental belief in my skill set as a rider and a person.


"Everyone is looking for a superior mentor that can add value to their lives and work. In both my riding and professional life, you have done that for me. I am grateful."
---

The Audio Testimony Below with Gretchen Jelinek, Greenwich, Ct. Both she and her daughter, Peyton, train with Jill and Sydney Shulman.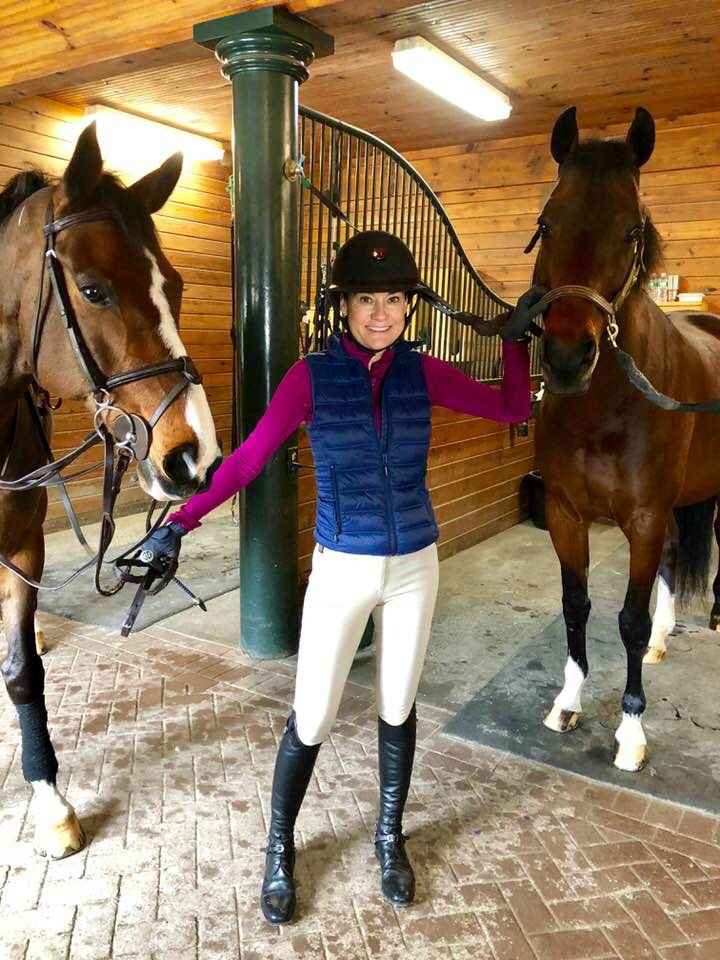 CLICK HERE FOR AUDIO TESTIMONIAL RECORDED LIVE FROM THE KENTUCKY HORSE PARK!


"Before coaching with Nancy Dye, the biggest challenges that I had were horse show nerves, lack of confidence, and HAVING to WIN all the time & to be perfect.
"I have such a passion for riding, but my horse show nerves were holding me back from enjoying the sport.
"What finally had me say, "Enough is enough," that inspired me to work with Nancy, is that I have amazing horses, a great trainer, and lifelong riding skills, but I could not get excited about competing. Not even at the special venues such as Old Salem. I actually starting dreading it.

"My favorite aspect of coaching with Nancy is that she changed my approach to all aspects of riding. My self-talk is so positive now, and I embrace feedback from trainers and am excited about learning from my less than perfect rides.
"Since coaching with Nancy, I am also using what I've learned in other areas of my life, I embrace the uncertainty now and am getting comfortable with being uncomfortable."

Update From Horse Show:


"I'm so excited about how well I rode at the show! I'm even sleeping at night prior to the shows. In the past, I couldn't wait to get it over with and to get out of the ring. I'm not agonizing over showing anymore!

"Now showing is exciting for me. I have a lot more energy now that I am not stressed out and I'm so enjoying every second of it! There are no more of those old voices in my head that were sabotaging me with negative thinking, excuses, and the pain of indecisiveness. I no longer allow the other riders around me to suck me into their fears and negativity. I am tunnel vision focused at the horse shows.

"I have a changed mindset. I don't just dream about it or feel it. Now I KNOW that I am in control of my destiny out there. I'm so happy and relaxed, and I'm having so much damn fun! After my last line on the last round in my jumping class, I turned to the audience watching and even solicited their clapping! That's how great I felt about how well I rode! Thank you, Nancy."

Another note from her.

"I'm feeling bold and excited!"

"Great day. I paced myself. There were a lot of distractions like tornadoes and storms ... scary, but I stayed on point. I even made myself take a 20-minute nap. I kept to a structure. I told myself that I wanted to use this time well!

"The best part is that I had a good time doing it. I was able to associate emotion with the results! (I got reserve champion in adults). I allowed myself to focus on the good feelings during the event and after when I won!

"Even though I was aware that it was not the best course for my horse, I decided it didn't matter. I told myself, 'I'm not going to think about it. I'll do this instead.'

"I used the self-talk that you customized for me. I watched several rounds of the top riders on videotape the day before. I wrote incantations in my journal. I did all my success rituals for the show day instead of spending all my time hanging around and just chatting with the other riders.

"I started at the ingate with absolute certainty and my usual incantations, and I added to them from training this past week.

"Now, I ONLY envision myself succeeding. If old thoughts start to come into my mind, I immediately know what to do with them. I don't allow it in. But it is rare that those negative thoughts even start to come up for me anymore. But if they do, I eliminate them immediately!

"If I were to draw a pie chart, on a tiny sliver on that chart is old thoughts. The rest is all good stuff and absolute belief that I will perform. I have certainty! I felt a totally different approach to my riding and showing. I OWN my new rider now. I ONLY see myself riding now to the best of my ability. I have stopped seeing other alternatives to that.

"Only in the warm-up ring did I feel a little shaky. My first few jumps were weak. That was my old self and pattern. So I made a point to over exaggerate a little, to ride with more impulsion to the first jump in the show ring. I remembered the vision you told me about McLain Ward's entrance into the international during WEF. And I said to myself and my horse, 'let's do this!'

"When I saw the course layout, and that it wasn't a great one for my horse's strengths and weaknesses, I reframed it. You have to make it work for you! I said to myself, 'What can I do with this? How can I make this work for me?'

"Usually, in the past, I didn't like to look at my videos of myself riding in a show, but for this weekend I looked at my video and thought, 'Wow, this looks good!' I looked like I belonged there!'

"There was just one jump where I didn't make the right decision. I could feel my horse was tired with the heat and all the rounds that day. I made a decision to not make him do the bolder move.

"Overall, I showed up bold as the new rider that I now own. I took the lead. I made decisions. I stayed in the present and enjoyed my time in the ring. I said to myself the self-talk that you designed for me.

"I didn't rush myself. I didn't cut my corners. I didn't fuzz out from being so emotional or fearful. I knew where I was in the ring at all times.

"I love it that I'm thinking in my corners and throughout the course and taking that time to take advantage of the tools you gave me.

"I like having options! It makes me feel more empowered. It gives me certainty within the uncertain nature of riding and especially when riding in the horse show ring.

"And I like showing off my horse a little more in the beginning when I first come into the ring. I don't just circle right away. I serpentine around the first jump and let my horse take a look at the jump first. I don't waste time and overdo it to annoy the judge, but I don't rush it either. I pat him and wait for him to take a breath. Then I start. This time lets the judge really see my horse.

"My thoughts in the ring now are, 'I want to maximize this. I want to make the most of it! Hey, I'm paying for this time!' Before, I couldn't feel the joy and the privilege. I just wanted to get it over with.

"The structure of the success rituals you customized for me makes it more fun. Boundaries and sticking to a plan created just for me and that particular horse make it easier to focus.

"I am a lot bolder and lot more confident. I look like I belong! You should be well prepared before you go into the ring. Too many riders are showing up unprepared. It's scary to watch them, so I don't. I take that time to do the success rituals that you customized for me instead of watching riders making mistakes in the show ring.

"Once you start getting good results and experience how good it feels, then you want to keep going! I like the feeling of 'I did well handling the part that I can control."

---


Gabby Santucci, a Medium Pony Rider who Trains With Bogginfin Farm in Ft. Myers, Florida: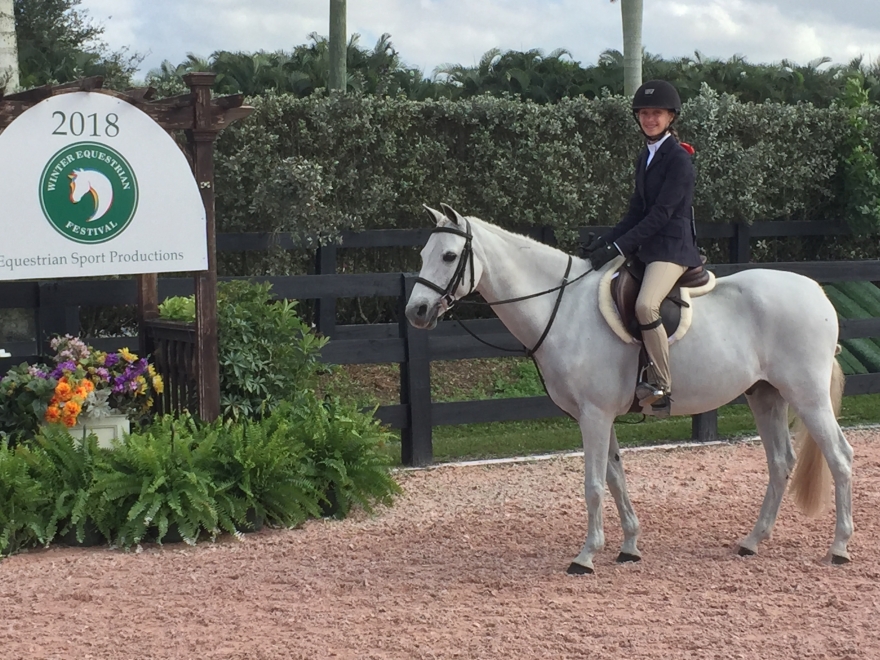 (Gabriel Santucci, Pony Hunter Rider.)


"My confidence is a 10. I feel empowered, and I feel like a leader for my ponies. I ribboned at my first WEF show, in two HITS shows in, Ocala, and then I won Champion of the Children's Pony Division, winner of the Zone 4 USHJA Handy Hunter Challenge, winner of the Marshal Sterling Classic, and 3rd in the Marshal and Sterling Medal at the Venice Equestrian Tour 2018. I am on track to make it to the finals this year. Thank you."

Update: Gabby ranked as the top 10 rider in the nation at the Marshal and Sterling Finals at Saugerties, New York!


---


Bogginfin Farm, Ft. Myers, FL: Owners Catherine Louise Hynes (Head Trainer) & Sean Hynes: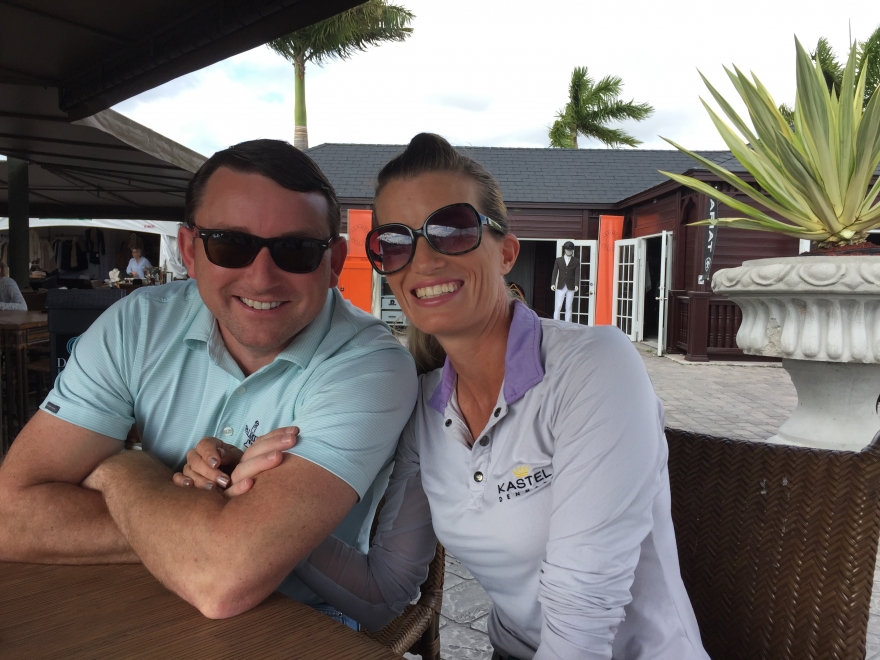 "Nancy Dye is awesome! We recommend her to all our clients!"


---
End of Year Reviews!

Form Filled Out From Lili Kaissar, Junior Rider Who Made it to The Finals. Trains with Heritage Farm in New York and Wellington.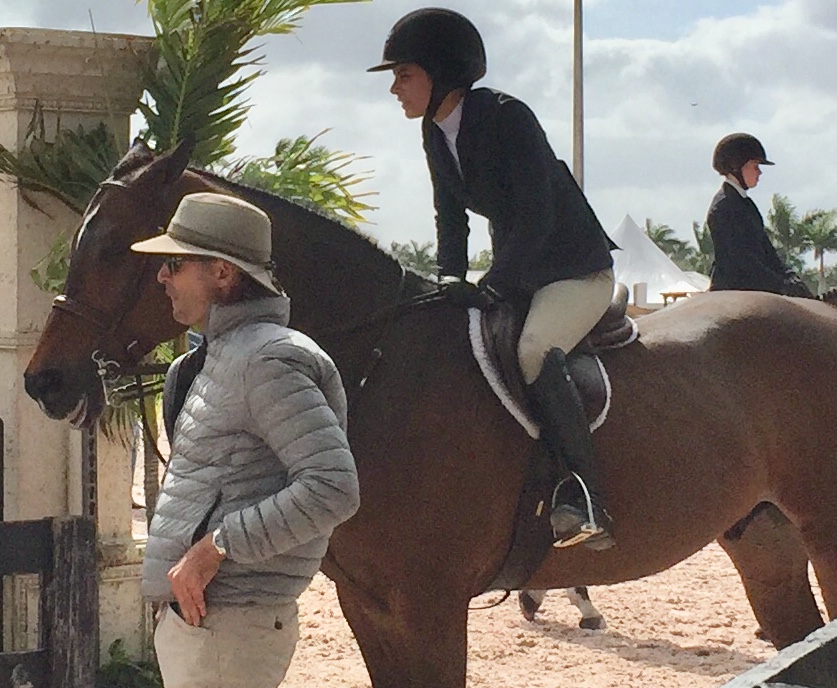 (Photo of Andre Dignelli, Head Trainer at Heritage Farm & Lili Kaissar at WEF18 in Wellington, FL)


On a scale of 1-10 (1 being "I can't believe I signed up for this coaching stuff" and 10 being "the most amazing thing I've ever experienced") please rate your coaching experience:
"10"
What is your favorite part of the coaching process that you find to be the most helpful?
"I think that my favorite, most helpful part was creating new neuro-associations for things that caused me fear or nervousness. Learning how to change my state whenever I wanted and how to rewire my brain."
What challenges or goals do you feel are not being addressed at this time?
"I really feel as though all of my challenges are being addressed."
What is not working well for you in the coaching experience?
"I couldn't find this experience better- everything is working so well!"
What are some of the tangible changes in your life/business as a result of coaching?
"I am feeling so much less nervous in ALL parts of my life - my grades have improved because of our coaching too! I have the confidence to speak to anyone about anything now too."
Is there any other information, insight or feedback you would like to share with your coach at this time?

"The training has been great. I feel so much more confident going into the show ring; doing my best every time I go in, whether it's a training class, a real class, equitation, or jumpers. It has really helped me throughout the circuit at WEF. That's really why I've had such a fun circuit.

"This has been such an amazing experience for me!!"


Another update:

"This is going to be a great year–I can feel it!!

"You're amazing!"

Update: UEST Finals East in Gladstone, NJ

Lilli, now training with Capital Hill Show Stables/Frank Madden, finished up 4th in the Nation! Lili was awarded the bronze medal as well.
---
From Lindsay Levine, Junior Rider at WEF, Jumper Division. Trains with Victoria Colvin in Wellington, FL.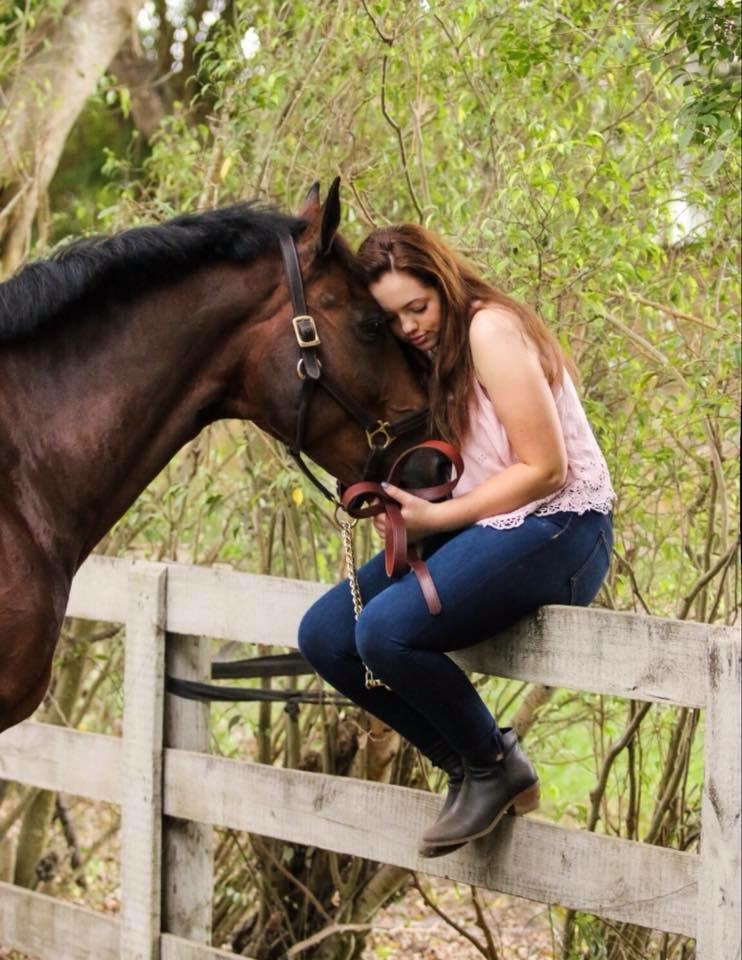 (Photo credit to Caroline Radigan, Wellington, FL)

On a scale of 1-10 (1 being "I can't believe I signed up for this coaching stuff" and 10 being "the most amazing thing I've ever experienced") please rate your coaching experience:
"This has been a 10 for me. This is my best season showing since 2010/2011. I ended up in 2nd position overall Circuit Champion for
WEF18 for Children's Modified Jumpers."

"I feel that this coaching has been life-changing. I feel more confident and brave when I'm going to show in a long time. Even before my fall."


What is your favorite part of the coaching process that you find to be the most helpful?
"The daily success routines, customized for me, that helps me start every day on a good note."


What are some of the tangible changes in your life/business as a result of coaching?
"Definitely more confident at riding, I got a job, I made peace with my old relationships, I applied to college, I am much happier, and I'm enjoying my life."


Is there any other information, insight or feedback you would like to share with your coach at this time?
"Nothing other than wanting to say thank you, Nancy."
---


From Louis Rogers, Eventer, Va. Trains with Olympic Silver Medalist, Kim Severson: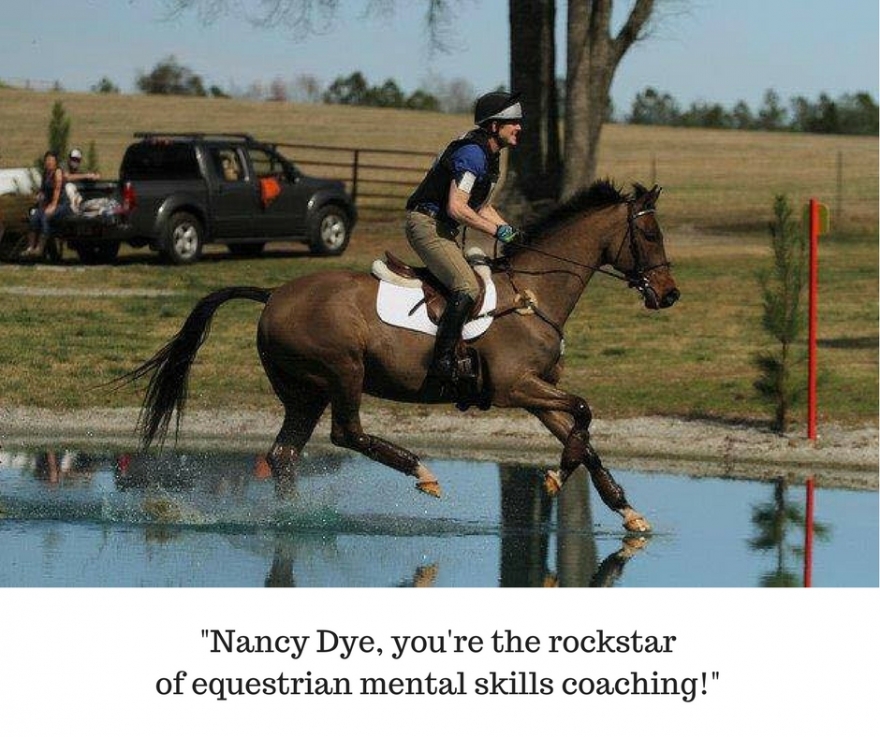 "Coach,
"Great news this weekend – my best horse trail in two years. We were only 5 seconds away from third place.

"You helped me overcome my fears and obstacles to become an equestrian rockstar. My horses and spouse are grateful. Thanks for helping bring out the best in me. It is nice to have FUN again,
"THANKS AGAIN!"

Update;

"Hey Coach, well, just won my first trial And my old horse qualified back in Feb for the AEC's held in Kentucky. We are rockstars! Just wanted to let you know and to thank you again!"

(Louis Roger, CEO and Founder of Rogers Realty Advisors, LLC in VA.)

---
Amanda Hood, Amateur Owner, Jumper Division. Trains with Tiffany Cambria at Code Four Show Stables in Upperville, VA.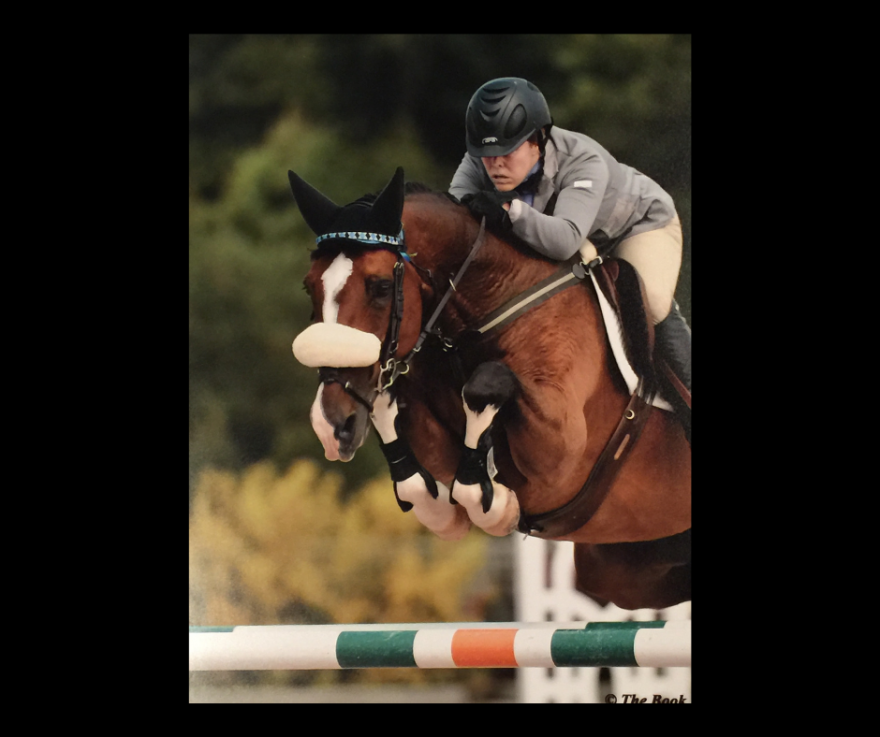 ---


Alexandra Karam Couttenye, Jr. Jumpers, Wellington, FL. Trains with Ignacio Maurin.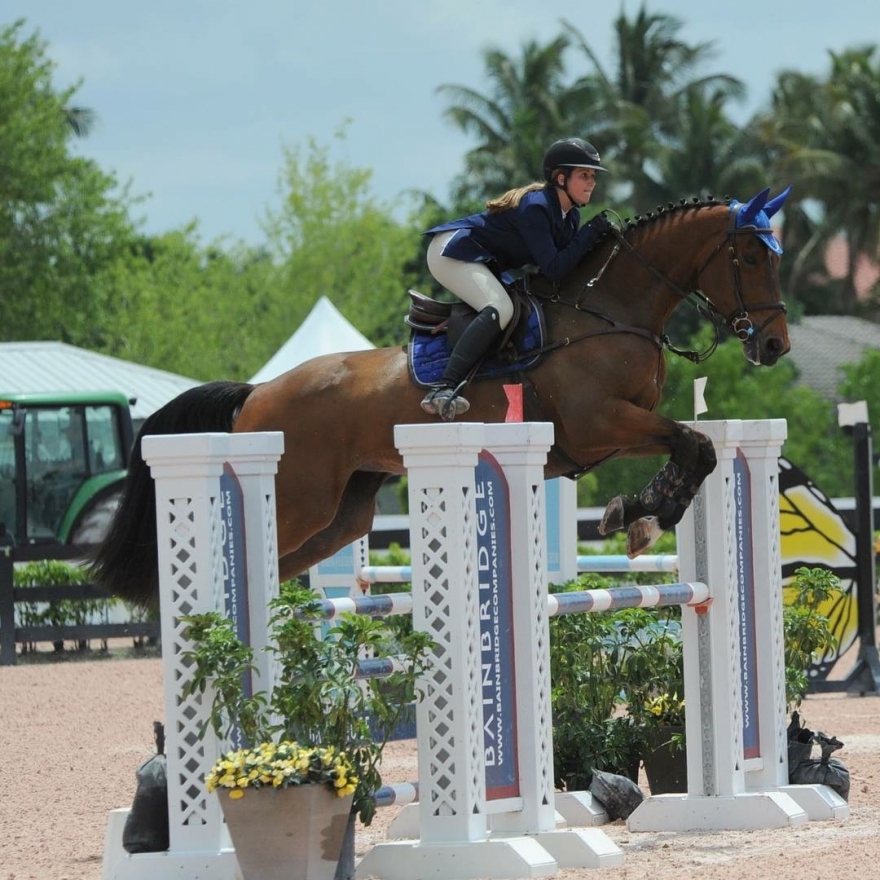 (Photo credit to Laura Fetterman.)

From her mother, Elena Couttenye, (FEI Judge, Jumping): "You are the best! I can't thank you enough for everything you did for my daughter!"


"My biggest fear was what my horse would do in the ring. I was stressed when I got to the show, and I was scared. Also, I would make excuses instead of learning from mistakes. And I was stressed in school. One day I was showing and my trainer noticed that I wasn't breathing, so when he pointed it out, I realized something wasn't right. My mom found out about Nancy, and I gave it a try.

"One of my favorite aspects of coaching is that Nancy makes it fun because we always get a good laugh, and she helps me figure out the things with my riding that I could never see myself.

"I realize that not being able to breathe when I was jumping came from stress and being scared. I have also learned how to take responsibility in my actions instead of blaming it all on others. I have also done so much better in my course. I'm way more focused in what I'm doing.

"On a scale of 1-10, my confidence is a 100. I feel more like a leader is 9.5. Can control my nerves and emotional state is a 9.5. The old me felt scared all the time. I was scared of turns and the height of the jumps. Now I walk into the rings like I own the place. I am so excited to go up and to be jumping in the 1.10 class now with my new horse. I used to be fearful and stressed. I'm having so much fun now!"
_______________________________________________________________________________________________________________________________________________
Cory Mclaughlin
AO Rider & Importer and Sales of Jumpers, Wellington, FL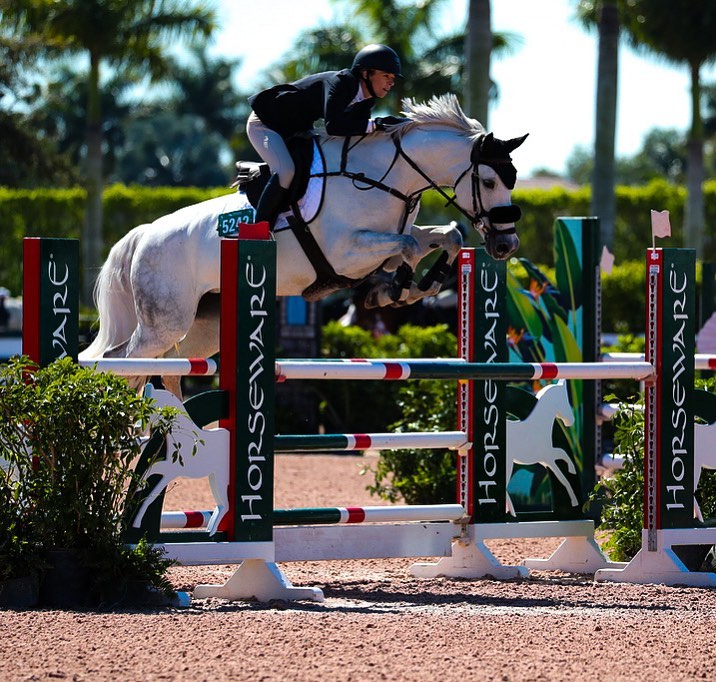 "My Journey with you has been incredible. Thank you, Nancy.

"I have gained my unshakeable confidence back. How much better can that get? I have been able to really get in the ring and show that I know my stuff and that I can ride like the wind. I have lost the fear of disappointment to trainers, family, and friends. Which all in all was one of the bigger road blocks.

"If you think you're going to disappoint all the time, well, chances are you probably will with that mindset. I am overall happier to be doing my job by really making it all for me and my horses and not worrying if things are going to fall apart when it comes time to show."

---
Lee Robin Gebhardt
Wine Sales Manager, Actress, Entrepreneur. Westchester County, NY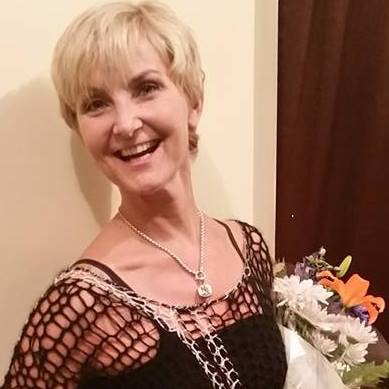 "If you are thinking about using the coaching services of Nancy Dye, stop thinking – just do it! I am amazed at the turn-around in myself in just 3 short months. Nancy's years of experience in coaching are evident almost immediately. She opened my eyes to the things that were holding me back, that I was fearful of; old beliefs about myself that just weren't true. She helped me to formalize and reach down to create a New Me, one with confidence, energy, and excitement for my future!

"Our paths crossed when I was 8 years old and attended the large, overnight sports camp that Nancy's parents owned in Vermont. This was where I learned how to ride horses, and years later after her parents retired, she ran the riding program at another camp I attended.

"Through Facebook, we reconnected again and became casual online friends. She was always happy! Always upbeat! And she would post about Tony Robbins, links to videos. Then one day, in my usual 'poor me,' mopey, depressive, un-enthused state, I watched one. And I saw a glimmer that another life, a better 'me,' was possible. I messaged her asking her, "Who is Tony Robbins and why is he so great?" She told me to call her at 9. I called at 9:30 and got her voicemail.

"When we did speak, it became apparent that I needed help. I was in the dumps about my job of 10 years and not wanting to get out of bed in the morning. My position was changed from that of a high earning commissioned sales representative to a salary/bonus management position, and I was underperforming. It was a hit to my pocketbook and my self-esteem. I blamed my company, my district managers, my co-workers, my customers, the economy, and even the political environment. Oh, there was a lot of blame going on!

"But Nancy first focused on one little crucial thing. Why did I call her a half hour late? Well, true to form, I had a very good excuse. Good excuses are my forte! And I finally admitted that I am always late. And it was a problem. I was spoken to about it by my GM. It caused me to miss sales appointments. And, starting from there, we worked on all the things that were holding me back, that I gave too much value to, that I believed were a part of me and that's just the way I was.

"But over the course of several months, and working each week with Nancy, I am not that person anymore. Nancy was trained by the official coaching school of Tony Robbins, and she walked me through the process of changing my identity from that person I was then to the person I am now; optimistic, empowered, more focused, more organized, more productive, and more in control of my life. I no longer live in my excuses. I am embracing my new position as a manager and learning how to become a leader.

"I love not being late anymore. That Old Me; negative, disorganized and distracted … She just doesn't live here anymore! I even had physical changes. Looking back, I had this feeling of a heavy weight on me. Everything hurt. Everything was a chore. Now I feel such a lightening of my spirit!

"This was work. You have to be honest with Nancy and, most of all, honest with yourself because she will call you out on your B.S. and help you see it for the B.S. that it is. After a session with Nancy, she writes a long and an incredibly insightful summary of our session, what we spoke about, what she heard me say, what was accomplished with each session, the insights, the strategies that will work for me, and the short action steps I need to take for the coming week.

"These are on your secured, personal portal on her coaching website, and are there for you to go back over and read anytime; to remind yourself of what steps to take next, and to give you an opportunity to see how much progress you have made.

"I highly recommend her services. Nancy's unique results coaching has done for me what I feel might have taken many years of traditional therapy, if ever. This is a powerful, step-by-step plan for a fast turn-around in life. I made a commitment and invested in myself and my future, my mental health, my career, and my personal well-being. Working with Nancy is the best thing I could have done. There are no coincidences. If you are reading this, and think this might be what you need, do it now!"
Another follow-up letter the night she did the firewalk at the Tony Robbins event, Unleash the Power Within and then 6 months later, challenged her to climbing a 40 ft. pole to do trapeze work (Life Mastery Course) in Amsterdam: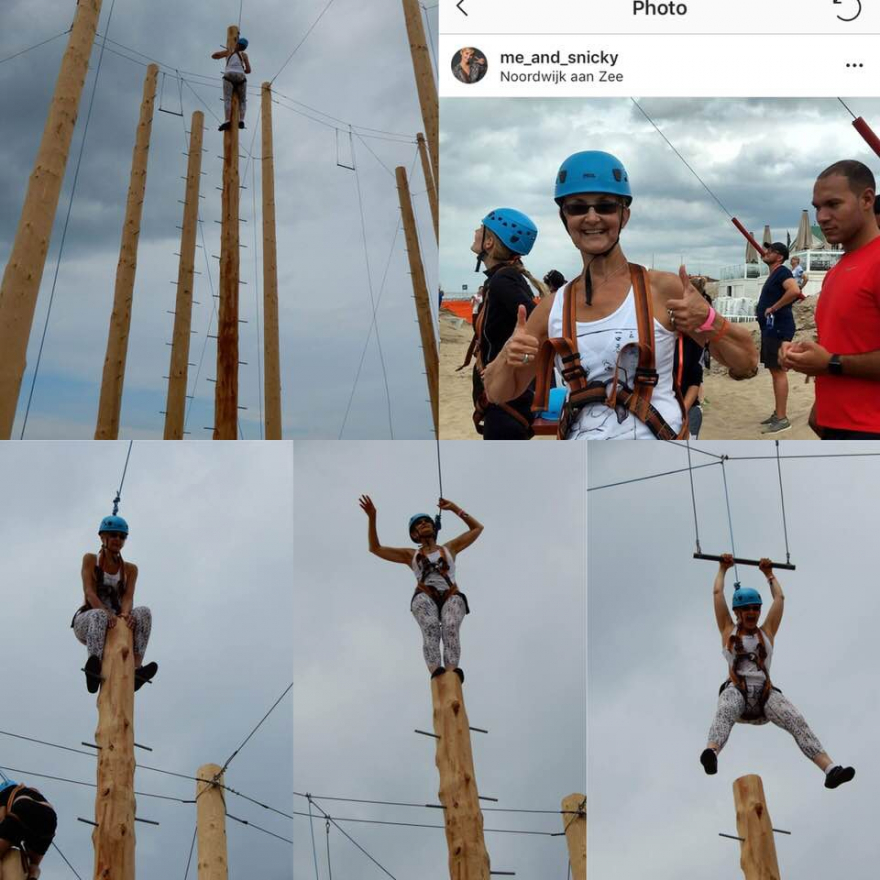 "I feel like so much is starting to align for me in a whole new way, and it all came together for me, inside, when I started working with you. I can't thank you enough, Nancy, for kicking my ass and calling me out on my attitude; helping me to feel good about myself, to see my limiting beliefs, and to help me realign so much in my life. I feel as if the moment I reached out to you and asked for your help … it was a real emotional bottom. And the techniques just work. It does. I am living proof. I am happy, focused, energized, and hopeful for my future!"

Update: "After turning myself around and fighting to prove myself, my company reorganized again and gave back to me my original sales territories of the top performing areas of New York. They invested in me to receive more advanced training in my field, and I am back to doing very well financially. I continue to travel the world and to challenge myself like the events above."
---
Josh Espinosa
Real Estate Broker/Remax and Former U.S. Marine. Weston, FL




"Nancy has a rare and exceptional quality of being very professional and genuinely caring. She has coached me personally, 'one-on-one,' and she has exceeded my expectations. Her ability to deliver comes from years of experience and valuable insights, which helped me to break through some personal and business barriers. I strongly recommend her as your 'go to' counselor/business coach."

---


Meghan Galloway Richards, VP/Owner Axcell Recruiting, Inc. DBA as Piper Staffing Services and InCPG, Tampa, FL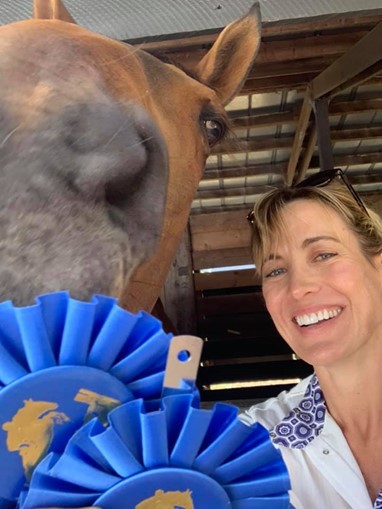 "Nancy helped me through more than just my issues with riding. She is more than just a "life coach. She is a kick-you-ass-and-make-you-life-awesome coach! I highly recommend her to equestrian athletes, entrepreneurs, and anyone looking to better themselves.

Nancy has a unique gift and has proved to be a tremendous help for me professionally and personally. From my athletics (competitive horseback riding), to my business (I own an executive recruiting firm), to my personal relationships. Nancy turned all my ideas around 180 degrees and helped me see possibilities where I saw problems, opportunities where I saw obstacles. Armed with the right mindset, the right tools, and a strong coach by my side, I was able to turn my entire life around and start experiencing joy, success, and growth!"

I highly recommend Nancy for anyone who wants to live a better life. Whether it's your business, your career, you health, you marriage, or your sport, Nancy has the tools, talents, and knowledge to help you breakthrough and perform at your best! Do not settle for mediocre when you can have the best!"

Click here to read Megan's end-of-coaching testimonial:

__________________________________________________________________________________________________________________________




Stephanie Pickman
Fitness Trainer, Boston, MA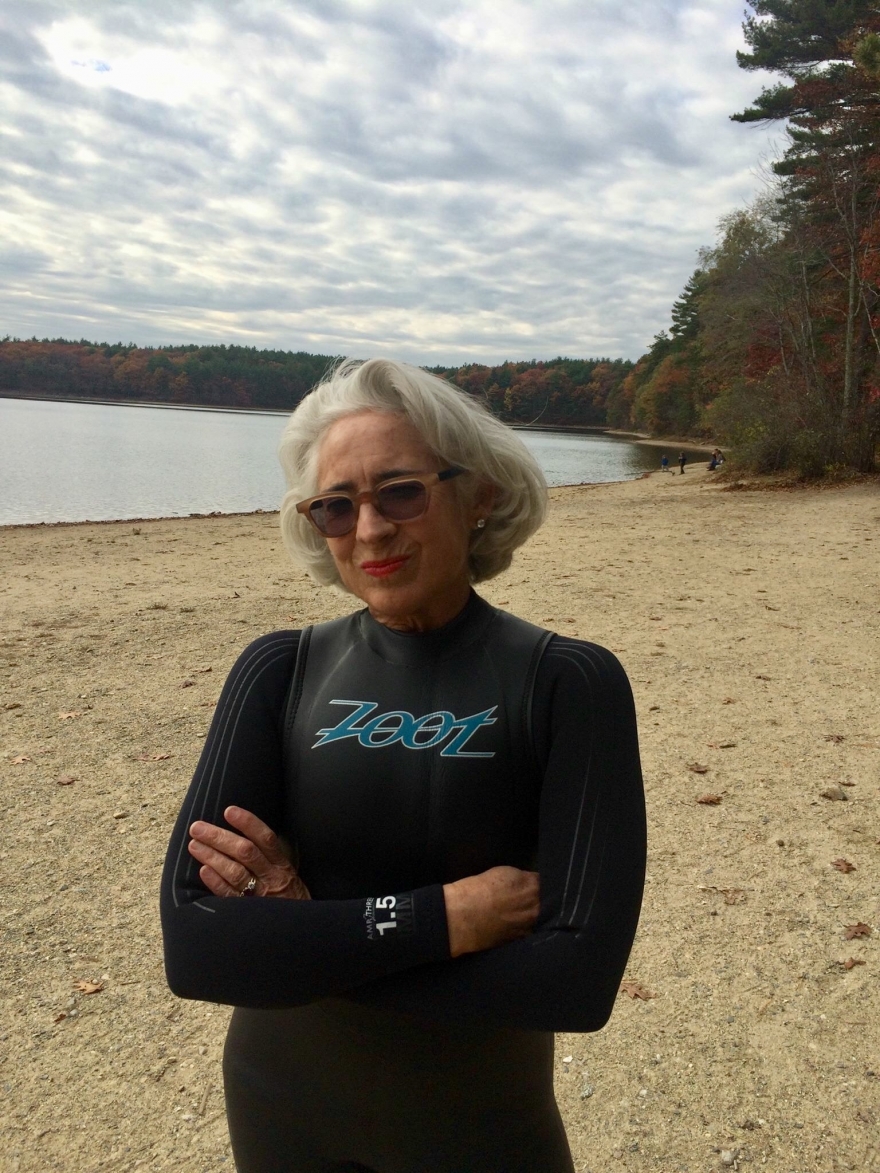 "Nancy is a passionate and committed lifestyle transformation artist. We worked together over a period of several months, as I was working on a series of intertwining issues related to moving forward -- both personally and professionally. Her superior listening skills and ability to keep me on point, when my survival instincts were screaming 'STOP!' were priceless. She does not give up, and she doesn't give in. Once we'd established goals, she was relentless (in a positive way), leading me to succeed in moving forward, with truly positive results.

"Nancy's ability to employ well-timed humor with her insightful analytical skill combined to help me break some life-long bad habits I thought I'd never get to the other side of. I fully endorse her as a trusted change agent."

__________________________________________________________________________________________________________________________


Christine Andrews, Interactive Media Designer at World Omni Financial Corp.

"Intelligent. Respectful. Helpful. Professional. Knowledgeable. Great person. Good colleague. Trustworthy. Intuitive. Unselfish. Nancy is all of the above and much more. She understands how best to solve problems and challenges and is an incredible person to work with."

______________________________________________________________________________________________________________________________________________