Equestrian Mindset Coach, Nancy Dye


The Most Powerful and Consistent Mental Skills
to Generate Peak Performance Results That Lasts

Is Nancy Dye's Rider Identity Transformation Program

Welcome to world-class results coaching and 2019! Ready to raise your standards?

You will receive game changing and life-changing results that go way beyond the standard sports psychology. I shift and transform who you show up as in the ring and in your life.


Rider Identity


"We don't get our goals in life, we get our identities. And we will always remain consistent with who we believe ourselves to be." A quote by Tony Robbins.

Our identities and beliefs are the reality we will create. (If you think you're a loser, you are. If you think you're a winner, you are.)

So that is what I do! And that is why New Year's resolutions keep failing.

I created this program that is revolutionizing the equestrian mental skills industry where I transition riders by beginning with who they are now and designing who they are going to be.

Then I customize for each individual the quickest and most effective step-by-step bridle path for that unique individual to arrive at their destination.


Emotional Strength and Resiliency


I am a trained strategic interventionist by the Tony Robbins coaching program, and I am also an equestrian.

I have customized Tony's powerful strategies and techniques for the equestrian based upon their unique lifestyle, challenges, relationship with their horses and trainers, and the demands that our sport places on their mindset.

The REAL special sauce?

I have added my thirty years of experience in coaching along with my own unique journey and dramatic transformation which gives the rider the ultimate RESULTS in their riding and their life.

Each rider receives their own new and exciting bridle path and "owner's manual" that provides them with the emotional strength and powerful mindset strategies ...

That will work exclusively for that particular individual to shift their inner core for peak performance in the ring and jumping over any adversity in their life.


Solving Your Puzzle of Why


This is the key!

Ignore or get this part wrong, which is the foundation for the rider, and the rider will always be unstable in their strength, performance, and consistency.

My innate puzzle solving talent, years of experience, and the most cutting edge strategies solves their puzzle of why they are not performing at their best or why they are stuck in any area of their lives.

Riders learn how they can find the key forces that are driving their thoughts, emotions, and actions and how to change it.

These powerful "puzzle solving" techniques, which include Neuro-Associative Conditioning, quickly gets to the core of where our "wires are crossed" in the brain.


Peak Mental State


Making any decisions while riding from an unresourceful mindset yields little or self-defeating results. You don't want to ride from those gut instincts. EVER!

We all know it is easier to turn around a rider than it is to turn around a horse!

At the snap of a finger, you will be able to shift into your peak mental state and to REMAIN in that empowered emotional "state" whenever you want ...

Benefiting not only your riding career, but transforming the quality and JOY of your life.

As well as that of your horse and all your relationships!



Hello Unflappable, Teflon Soul!


You WILL finally learn how to say good-bye to being stuck in painful emotional SYMPTOMS ... forever!

No more playing the "wack-a-mole" game with temporary patch-up bandages for every problem.

No more riding from a place of fear, frustration, anger, or anxiety. No more excuses or second guessing! No more roller coasters! No more being triggered!

My riders don't depend on hope or good-luck; they take responsibility and control of their results.

You will show up owning your new rider identity.

You will generate that powerful rocket fuel and warrior ethos of riding with intent, belief, absolute certainty, and joy!

And that formula will work for you consistently.


Interrupt That Sabotaging Pattern!

I perform a strategic intervention where I instantly INTERRUPT the emotional and/or behavioral patterns that is tripping them up and holding them hostage.

Riders receive the a list of completely unique "pattern interrupt" tools that I designed just for them!

Then they are taught how to focus on something more empowering that will serve them better.

(Caution; What works for one rider may actually trigger another in a negative way. There are no standards.)


Change leads


New focus! Together we enjoy redesigning who they want to become.

We re-write the "story" and script for living the life of your new rider identity including the new beliefs, focus, values, self-talk, and the behavior.


This is your Ultimate Blueprint for the NEW patterns, rituals, and rules needed to keep you on the exciting new bridle path that leads to your new dream destination.


Changing Your Bad Habits Forever


Yes, FINALLY! Why?

Cause rewiring the brain is not a one size fits all solution! This is why people get and stay stuck!

You will have your own unique playbook that works for you to change reprogram ANY bad habits.

This provides a HUGE edge over your competitors that are forever frustrated with spinning their wheels trying all the things that DON'T work!


Your Special Sauce for Results and Feeling Like a Million Bucks!



What is the key for YOU to actually APPLY these simple steps, consistently?

So this is where the rubber meets the road ...

LEVERAGE that WORKS for you (note that the very same leverage might not work for someone else!)

Plus the "SPECIAL SAUCE" ... the fun and powerful 'tricks" I will design for your unique brain to consistently keep you running your new software program and not defaulting back to your old one that you programmed into your brain.

These are the important guard rails, or fences, that will prevent you from jumping over and galloping back to that old bridle path you were on!


You're Only 1 Millimeter Away!

Sound complicated? See it as it is, not harder than it is. This is a simple process.


You've got this!

A core shift and a few key TWEAKS here and there ... a simple blueprint that works every time and BAM, you're now a force to be reckoned with, and you've left your competition behind in the dust!


What if I Don't Believe I Can Do This?


Good news! You don't need to have the belief. You can borrow mine until you do!

And I will show you how to utilize THAT cool little trick!

(Secret? My husband, a former Olympian gymnast inducted into 4 Athletic Hall of Fames, taught me that one!)

How simple is my program?

It's like trail riding with a guide! All the sudden, you're at your final destination!


My riders receive the simple, fastest and most direct results to achieve that for themselves!



From Debbie Bass, Director USHJA, Adult Hunter Rider. Trains with New Hope Farm in Columbus, Ohio: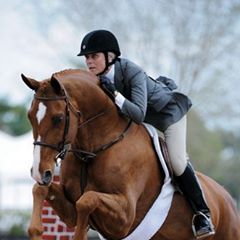 "I am gearing up for my 26th WEF! Thanks to your coaching over the last year, I am comfortably prepared to take on my new goals for this season.

"I am a substantially more confident and effective rider than I was last year at this time. This is due in large part due to the work I did with you. In many respects, I am a more confident person too. Your coaching system has fostered an enhanced fundamental belief in my skill set as a rider and a person.


"Everyone is looking for a superior mentor that can add value to their lives. In both my riding and professional life, you have done that for me."


For more testimonials, click here.

For results coaching that exceeds the usual "sports psychology," or to add my services to your equestrian team, click here to schedule a call with me.