Unflappable: Ultimate Mental Skills Book & Private Coaching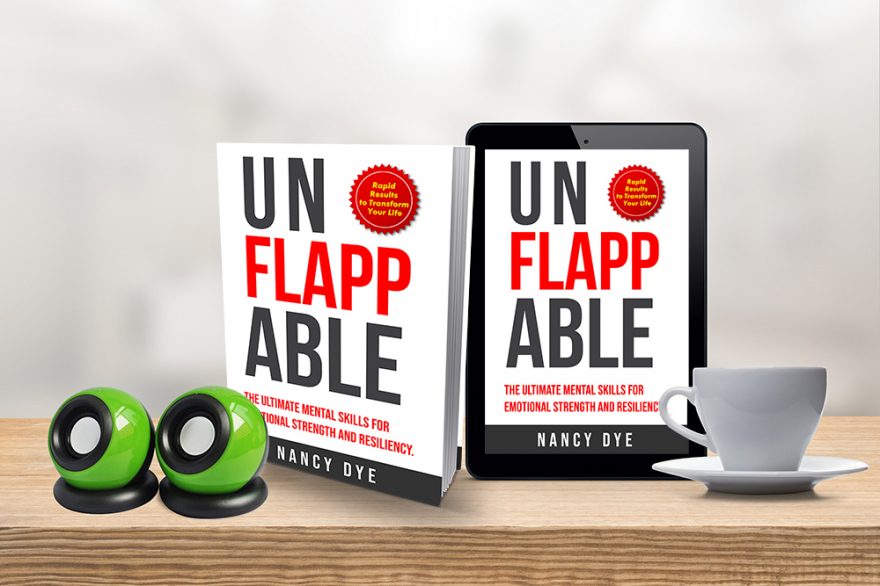 Hello Unflappable, Teflon Soul!


Tired of "trying" to learn to turn around your mindset and results with various books and clinics?


Ready to just jump ALL IN and DO IT NOW to become an Unflappable Rockstar that knows with ABSOLUTE CERTAINTY that they have a ROCK SOLID foundation deep in their core?


By purchasing this book, you will also be purchasing my signature private phone coaching program. Not just for equestrians, Unflappable will train you in the most powerful methods for obtaining emotional strength, resiliency, and peak performance in all areas of your life.


Quickly turn around any issues and jump over any obstacles that you are on your path! This intensive and proven phone coaching program uses the exact step-by-step process Nancy created that has revolutionized the equestrian industry for mental skills training.


You will receive up to 12 private and customized one-on-one private weekly phone coaching with strategic interventionist and mental skills coach, Nancy Dye.




You will be getting a complete strategic intervention and the most powerful transformation system ever deployed for identifying your tripping points, creating effective pattern interrupts, and rewiring your brain and nervous system.


Through my personal phone coaching, together we will figure out your own personal puzzle. We will then do a complete makeover of your riding/career/relationships/physical fitness to include using optional multi-media training that is drip delivered to support each step (to prevent overwhelm).


This ULTIMATE coaching program will transform you with lasting results by building rock solid Emotional Strength & Resiliency for ALL areas of your life … starting with whatever challenge you feel the stuck in right now.


This package includes up to 12 strategic sessions by phone and 24/7 support through email and text, 15 minute "quick check-ups" as needed and Monday morning "quarterbacking" after the weekend.


I work on ALL areas of a person's life to teach them how to control and manage any distractions or triggers in their personal or professional life that may adversely affect their performance or behavior.


My signature strategic intervention/coaching program is my commitment to be there for you and to help you overcome and jump over any and all obstacles in your life; doing whatever it takes to insure that YOU achieve peak performance and to have a solid core foundation of being totally Unflappable!


Purchase my Unflappable signature coaching program and receive the "Unflappable" book, up to 12 private coaching sessions, videos, and audios ... everything you need to figure out your own puzzle and to rewire your brain and put into action (and expand upon) and reinforce everything you learn during the one-on-one private phone coaching.


If you are serious about being an elite athlete or a rockstar in your professional or personal life, if you want to finally figure out why you are not making more progress and how to turn it around and take control of your results and your life, (and if you want to return to enjoying riding), this program is not a should; it is a MUST!